If you are looking to take your yuletide celebrations to the next level, look no further than a yacht share vacation in the Med, providing the perfect opportunity to treat your family and spend quality time together on your own beautiful yacht, surrounded by the ocean. Christmas in the Mediterranean is a chance to tour the region's most stunning locations out of the summer high season, when they are quieter and have a certain magic about them, and this is still possible from the safety of your boat this winter. Below, discover three spots that are certain to bring you glad tidings this holiday season.
Where to go for a very merry Christmas in the Mediterranean?
The French Riviera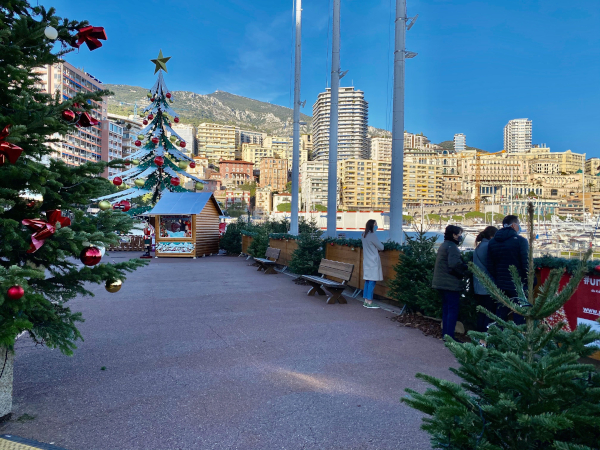 Christmas in the Mediterranean Monaco
December on the Cote d'Azur is typically bright and sunny, meaning the light is perfect for taking in the breathtaking views that this part of the world has to offer. Temperatures are typically mild and tend to range between average lows of 9°C and average highs of 13°C, ideal for long walks on the beach or strolls to admire the beautiful decorations dotted throughout the towns and villages. At this time of year, the colours of the sea are beautiful, ranging from jade and cerulean to azure and Prussian blue, and these can be viewed from the moment you wake up on your Mediterranean yacht charter.
This year, there will not be the festive markets and events that are typically held across the country, and bars and restaurants will not be open. However, you can still enjoy French culinary delights and wines from the comfort of your yacht. Why not have your private chef whip up a traditional Christmas fare - perhaps roast turkey or roast goose with chestnuts, or oysters, foie gras, lobster, venison and local cheeses, all paired with wine from local vineyards. Don't forget the bûche de Noël for dessert!
Where to go? Nice, St Tropez and Monaco all offer beautiful backdrops for a yuletide celebration away from home.
The Balearic Islands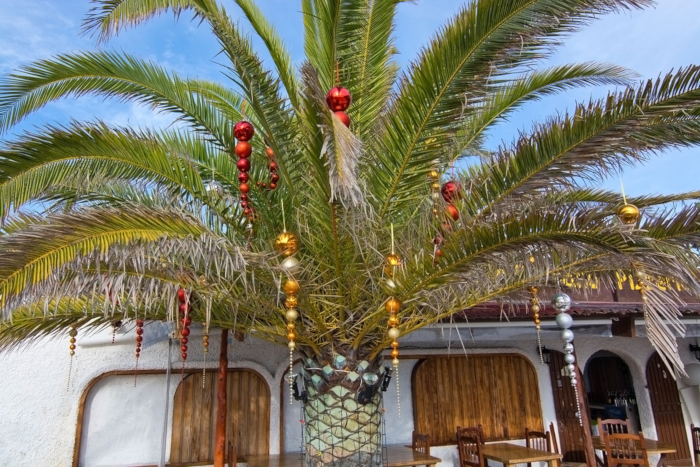 Christmas in the Mediterranean The Baleric Islands
Temperatures in the Balearics are typically warm to mild in December, ranging between 9°C and 16°C, making for a warmer Christmas than many of us are used to. While the sea will be cold, there is nothing to stop you from enjoying some exhilarating watersports - your crew can ensure there are thick winter wetsuits onboard and will take you to exquisite secluded coves, ideal for everything from paddle boarding, snorkeling and diving to wakeboarding, water skiing and jet skiing.
On Mediterranean yacht share here, there are several festive treats you must try, including various types of artisan turrón (nougat), peix de pasta reial (freshly made pasta), coconut sweets and cinnamon biscuits. To embrace the island's foodie traditions on the big day, start with sopa rellena (a 'stuffed' turkey soup) before feasting on a suckling pig.
Where to go? The four main islands Mallorca, Menorca, Ibiza, and Formentera are not to be missed.
Croatia
Christmas in the Mediterranean Croatia
Croatia has its own unique festive customs and traditions that should be experienced at least once in a lifetime, making it the ideal place for a festive Mediterranean yacht charter. Temperatures are typically mild, ranging between 7°C and 13°C, making for ideal walking and hiking weather.
Once again, exquisite local delicacies can be whipped up by your Mediterranean yacht charter chef - around Christmas these include Makovnjača (poppy seed rolls), roasted turkey, duck or goose accompanied by Sarma (cabbage rolls filled with rice and minced pork meat). In some regions, it is instead tradition to make a beef stew, homemade Mlinci (flatbread pasta), or roast suckling pig.
Taking a stroll through town, you'll see public squares and homes adorned in glittering decorations, and perhaps catch the intoxicating scent of mulled wine spiced with cinnamon and cloves. Don't leave without trying a Fritule - a Croatian doughnut-like festive pastry eaten at this time of year.
Where to go? Split offers pretty cobbled streets and living history, Rijeka means stunning architecture on a hillside.
If this article has inspired you to spend Christmas in the Mediterranean, why not treat yourself and your family to a yacht share holiday, allowing you to safely explore the Med from the privacy of your own luxury vessel.